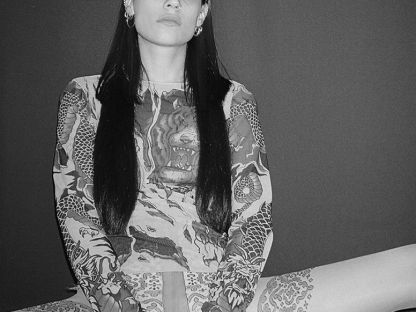 Very very futur club music. Textured dense and hiphop sounds. Hot and NUXXE. Be collective!
UK-Clubsound in der Maxi-Familienpackung: Gemeinsam ist den vier Acts eine zappelige Energie und unbändige Kreativität, das Verschmelzen unzähliger basskultureller Einflüsse sowie eine düstere Atmosphäre und üppige Klangstruktur. Als Eigenheiten ragen bei Sega Bodega die fast schon eingängigen Melodien heraus, bei Coucou Chloe sind es gespenstisch irrlichternde Geräusche und Stimmen, bei Shygirl alleszerstampfende Beats und peitschende Raps und bei Englesia der verschroben-verschlungene Songaufbau.
Voici l'univers musical des boites du Royaume Uni en version maxi-pack: Les quatre noms sur l'affiche ont en commun leur créativité indomptée et leur énergie vibrante. Ils fusionnent les influences de différentes cultures autour du son de la basse et produisent une atmosphère patibulaire avec des structures voluptueuses de sons. Sega Bodega se démarque par des mélodies étonnamment claires. Coucou Chloe maîtrise les bruitages et les voix fantomatiques des feux follets. Shygirl se profile à travers des beats écrasants et un rap cravaché. Pour Englesia, on notera la construction extravagante et sinueuse de ses morceaux.
(Text: Frédéric Auderset)